Customer Reviews
Write a Review
Ask a Question
03/24/2020
Inês G.
Portugal
Loved it!
The travel pack is perfect for travelling or to have at home! I just think that recycling the bristles of the toothbrush is difficult... they're too thin :( Can recycling companies recycle such a tiny thing? Despite that, I really love all the products.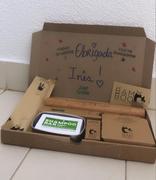 03/27/2020
The Bam&Boo Toothbrush
Thanks so much for your kind words and great photo :) Bam:)
11/13/2020
Arnalda P.
Portugal
A pleasant shopping
All the process was very pleasant, since the emails received until the package with the lovely messages and off course the very good products. 5 stars.
11/14/2020
The Bam&Boo Toothbrush
Hey Arnalda! No words to describe how grateful we are! It is people like you who push us forward to be better every single day. Thanks a million :)
08/28/2020
Olivia M.
United Kingdom
Brilliant!!
The soap is lovely, smells good, my only note for newbies on solid soap is hat you do have to work it for a few seconds into a lather before using it on your hair, and you may have to do this a few times, but nbd. the straws are super cute and work perfectly, but i had to clean mine before first use as there was a bit of bamboo sawdust in them. these are my only complaints, the cotton tips, floss, toothbrush, and toothbrush holder are all flawless in my opinion and work exactly as expected. very happy with this product and will exclusively get my toiletries from this company, or similar ones!
09/07/2020
The Bam&Boo Toothbrush
Thank you so much for the amazing feedback. It means a lot to us #gogreen
03/25/2020
Raquel .
Portugal
Travel kit
I loved every item with the exception of the shampoo.
01/26/2020
Maria D.
France
Util, pratico, criativo, belas surpresas!
Tinha curiosidade em testar o shampoo bar, mais uma agradável surpresa! Desde 2018 que partilho com a minha família e os meus amigos, útil e prático, que criatividade, estão de parabéns! Junto-me ao planeta para também agradecer-vos, muitoo oobrigada!