Customer Reviews
12/08/2019
Anonymous
Slovenia
12/05/2019
Anete A.
Latvia
Amazing product and experience
Great service and excellent product. Shipping was really fast and I was very happy when I got my toothbrushes in my mailbox so I don't have to go to the mail office. Also, a very nice gesture is "thank you" text on the envelope in my language which is Latvian (nobody knows, hahaha: D). Toothbrushes are in very good quality and I really like that they are in different colors so I can order for my whole family and in the bathroom, everybody will know which colors toothbrush is theirs. Thank you for the best service and good luck! BR, Anete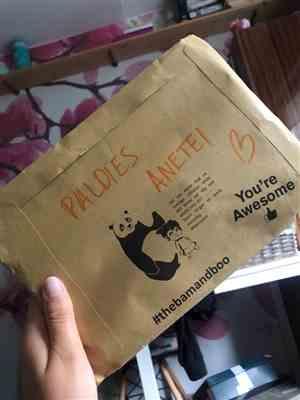 12/04/2019
Evan M.
Ireland
12/03/2019
Iker M.
Spain
12/10/2019
Anonymous
Spain
Good as usual
I am very pleased with my toothbrush as usual. The old one was used as kindling in our log burner and the plastic bristles tipped into an eco brick so no challenge to tbe environment whatsoever.
Votre brosse à dents en bambou est-elle végétalienne?
Oui, tous nos produits sont végétaliens: pas de tests sur les animaux, pas de parties d'animaux.
Combien de temps dure la brosse à dents en bambou?
Notre brosse à dents écologique en bambou durera aussi longtemps qu'une brosse à dents en plastique conventionnelle. Les dentistes et les hygiénistes recommandent de remplacer votre brosse à dents tous les 2/3 mois et de se brosser les dents tous les jours après chaque repas par la soie dentaire régulière pour des dents et des gencives en bonne santé.
Comment fonctionne l'abonnement brosse à dents en bambou?
Le modèle Bam & Boo est un modèle sur abonnement. Cela signifie que nous livrons tous les deux mois une brosse à dents en bambou écologique à votre boîte aux lettres. Le client choisit la période récurrente qu'il souhaite.
Quelle dureté de soies offrez-vous dans une brosse à dents en bambou?
Toutes nos brosses à dents ont des soies souples. Pourquoi? La réponse est simple: recommandé par les dentistes! Cependant, nous avons également une option de poils moyens («Couleur aléatoire - poils moyens).
Pourquoi est-ce plus écologique?
La brosse à dents en bambou contient 95% de sources renouvelables et est biodégradable à 95%. Ces 95% sont la poignée en bambou, le carton de papier et le sac en PLA. Les 5% restants sont des poils en nylon 6 sans BPA. Nous avons à ce stade choisi d'utiliser ces soies, car elles constituent toujours le meilleur moyen de garantir des soins bucco-dentaires de qualité. Il existe des alternatives 100% bio comme les poils d'animaux ou les soies de PLA, mais qui selon nos normes ne sont pas encore une bonne alternative. Entre-temps, nous continuons de rechercher des solutions de remplacement viables pour faire face aux 5% restants.
En ce qui concerne le bambou, nous utilisons du bambou Moso et un fournisseur certifié FSC, ce qui signifie que l'approvisionnement est durable. En ce qui concerne la production, nous travaillons avec un partenaire certifié ISO9001, ISO14001, ISO18001, allant du management de la qualité au management environnemental, en passant par le management sain et sécuritaire.
Encore un mot sur le bambou. En plus d'être un matériau 100% bio, c'est aussi un très bon matériau. Le bambou est la plante dont la croissance est la plus rapide sur la planète. Il est naturellement antibactérien, il n'a donc pas besoin de pesticides ni d'engrais et nécessite très peu d'eau pour sa croissance.
En ce qui concerne l'expédition, nous utilisons simplement une expédition standard pour minimiser l'impact environnemental. Le bambou lui-même est assez léger et, avec l'emballage et l'enveloppe en papier, il ne pèse pas plus de 50 grammes. Puisque nous n'utilisons pas de plastique de protection à bulles, l'emballage de la brosse à dents arrive parfois légèrement froissé. Ensuite, nous utilisons uniquement les bureaux de poste standard et le «postman pat» de chaque quartier, évitant ainsi les livraisons exclusives.